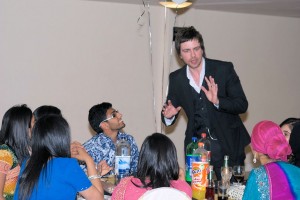 Harrison Richards' unique, inventive and energetic performance is the perfect ice-breaker and conversation starter for a whole host of parties and events.
Harrison can mingle with your guests during a reception, creating a real talking point whilst encouraging your guests to get involved and enjoy themselves.
Or he can entertain guests in between the courses of a meal so there's never a dull moment or a lull in proceedings.
Make your next party a unique event that you and your guests will be talking about for many years to come!
Let Harrison know the kind of party or event that you're planning and he will tailor a performance to meet your exact needs and requirements.
Enquire / Book